Coordinates -     53.266919 ,     -9.050158
Galway City.
Townland -  Townparks
Designed by Mr. Alexander Nimmo , from whom, it gets its name.
A.K.A.  Ringhanane Quay

Marked on the 25 Inch Map, circa 1900 ?
Shannon's Point - Seanin's point, maybe?
Slate Quay (6 inch). A reference to the thin -ish, slabs of Limestone used in facing the structure.

Have Google Earth? Dowload a KMZ, and find Nimmo's Pier precisely.
Immediately West of Galway Docks.

of the River Corrib, at the Bay end.
and, Long Walk.

Immediately East of The Claddagh.
North, of Galway Bay.
Very popular for a stroll, 
Access, is for Walkers.

Cars and Vans, etc., must get a key to  the Gate, which is at the North end.
Emergency Services, have access of course.
By arrangement, others can be allowed in, for the service and maintenance of Boats. Nimmo's Pier, still has a great value in this respect, and often more favoured than the Old Dock.

It is a fine example of Stonework (Limestone)

Hand cut for the most part
Saws were available at the time, but the technology was more primitive, I suppose.
It adds to it, If you ever did a bit masonry, you'd feel the labour, sweat, pain and expertize that is needed.
The lines are straight, where they are supposed to be, but not straight enough, to look artificial and contrived.

See Claddagh Hall.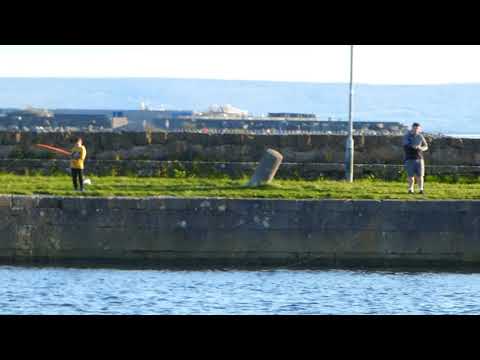 The Mutton Island Lighthouse, can be seen in the background of the video above, as can the Hills of County Clare.
Alexander Nimmo
(b.1783 - d. 1832), a Scottish Civil Engineer (C.E.). Ergo, its name since.
1821 -  Became a Surveyor for the Commissioners of Irish Fisheries.
1822 -  Moving to a position within an entity called The Western District.
An element of his brief, was the creation of employment, in tandem with the improvement of rural Irish infrastructure. It should be noted that Ireland was under the control of England - its governing authority. And that we are talking about Famine years..
If you wanted a Tour of Ireland, you could do much worse, than to visit the places where this Man plied his trade. 

This, brought him to Roundstone in Connemara, creating if you like, a new Village.
Cleggan Harbour

Cleggan Harbour

Kerry addresses,
Sarsfield Bridge of Limerick,
Accredited too, with the Lighthouse at Dunmore East, Waterford which was completed in 1821.
Seanceibh (Irish for Old Quay) in Spiddal, Galway,  1922.
Claddagh Pier (Claddach)
Clifden Pier
Barna
Leenane Quay

Bridge   53.59598,  -9.694187

Annadown (Annaghdown) and Oldbury Pier
Greatman's Bay - Cuan an Fhir Mhóir
Roads

Menlough, Headford, 
Galway to Claregalway
Galway to Tuam 

and various other locations. It is staggering, just how involved he was, and how we never knew it.  Talk about an impressive C.V.. He wasn't confined to Galway, alone, or at all.
Pollaphuca Bridge, County Wicklow.

 53.118657,  -6.586820
Download KMZ of this spectacularly scenic place.

He lived in Maam , Connemara while working  in the region.  That House, doubling as an Office.

That House, is now a Pub run by the Keane's - Keane's Bar - Coordinates -  53.515464,    -9.560147
His Brother John, died here, while Alexander died in Dublin.
Another, stunning Irish location - Download a KMZ.

This Pier was  built sometime after 1922,  while he held the position of Engineer for what was known as the Western District ( See Book).
As with Today, improvements to infrastructure projects, don't always attract positive feedback.... he was substituted, and ran a private practice in Dublin.
He must have been some sort of Polymath - holding positions in earlier life, of School Master and Rector.
How one Man got so much done, and traveled so extensively when Travel was slow, is a  mystery.
That travel , was made easier by him, since. R.I.P..
The House -
Claddagh Hall
.
It would be a Big Bungalow, by the Standards of Today, but still unusual by its design.

Too big - steep Roof (not unusual in itself, in terms of Pitch). but a visual feature from a distance.
Robust, looking. Sturdy and capable looking. Wide base - low centre of gravity, sort of sense to it.

Google Maps - Aerial (Satellite View). Street View.
Sometime, before 1912... 

Funded by the Congested Districts Board of Ireland. !Funds for the C.D.B. came from the Church of Ireland , but by 1912 other funds had been allocated and its assets totalled £530,000 (equivalent to £40 million at 2010 values)."
So, we know that it is pre-dated by the Pier of 1822.

The only Building on or near Nimmo's, and it is at the North End of that.

Coordinates  -    53.267062 ,   -9.053744
Former Club House to Galway Rovers, a previous iteration of Galway United - itself, a local Soccer Club. 

Limestone - as good as it gets.
Timeframe - The Pier was built with an awareness of a depressed economic time, and so was The Claddagh Hall of 90 Years later. No longer a Famine Time, but having a persistent Famine mood. It was recognised that something needed to be done, and the ad-hoc, individuaoised approach to commercial Fishing, needed to be "tackled".  Doing things, your own way and based on mystical epistemology, always has virtue but not enough for the good of a Village. A broader philosophy was needed, and it became time to organise the People as well as the infrastructure. 
Meetings, were held in this Hall, for that purpose - to combine knowledge for a common good.
This is not easy to do. It is easier now, and seems more natural, but wasn't so, until recently. It wasn't a unique property of Galway People, and can still be seen in the Farmers of today. Only within the last 10 to 20 years ago, did this philosophy disappear from the Claddagh Fisheman mindset. 
Navigation at Sea, is still held as a gift of sorts, and some are much better at it, than others.
Navigation at Sea, coupled with the sourcing of Fish Shoals, was recently held as a gift-like intuition. A local Man who died about 10 years ago, had a reputation of not only knowing where he was going, but "knowing" where to find Fish. He did it, but couldn't express it. Luck or mysticism? Is there a difference, even?
Modern Technologies, help, in the form of Boat position (location, and survival) and in the form of localised Fish location. It is limited, to a great degree, when it comes to the prediction of shoal movement. Local Boats, didn't have Technology, until it was regulated.
So, you should appreciate that meetings were indeed needed, over a hundred years ago?
This place had Snooker Tables, when they were rare.
The Claddagh Hall, is the only large Building to the south of Grattan Road, and most of the visible Land to its west, is Fill. This area, is known locally as The Swamp and South Park.
Board of Works, created in 1831
 Ballyknow Quay (53.268643,  -9.054920 ) and the Claddagh Quay ( 53.267993,  -9.054294 ).
April 1st. , 1977, The Whitehorn, runs aground on Mutton Island, and was visible from here. It got caught in rough weather into the Bay, and was carrying 600 tonnes of Fertiilzer for Mc Donagh's in the Docks. See photo.